28 years of experience serving your safety
1965 :
Lucien Walter creates a company specialising in the manufacture of truck tarpaulins in Mundolsheim in the suburbs of Strasbourg.
1982 :
The company moves into the manufacture of mobile structures and files several patents in the field of aluminum frame and synthetic membrane technology.
1987 :
Diversification and growth lead to the establishment of the head office in Brumath, 20 km north of Strasbourg.
1992 :
Beginning of the swimming pool covers activity which has now become Walter Piscine.
2003 :
Creation of Walter SAS following takeover by the German group Losberger.
2006 :
Walter asserts its capacity for innovation in the swimming pool safety cover market with the launch of WaluLock, a 100% automatic safety cover.
2010 :
Walter SAS becomes Losberger France SAS.
The swimming pool covers department retains its name Walter Piscine.
2011 :
New innovation: Walter Piscine launches WaluDeck, a rolling decking combining the advantages of decking with those of a safety cover to transform the pool into a real living space that can be used all year round.
2020:
Walter Piscine gets a makeover by joining the Belgian family group LPW Pools. Walter Piscine becomes Walter Pool and uses the opportunity to refresh its visual identity and take on a new lease of life.
Our production tool
Our French teams have been designing our products in our factory located in Brumath for over 28 years. It enjoys modern and integrated tools to quickly and reliably respond to our customers' requests.

Design
Our integrated design office makes it possible to develop new, ever more innovative products and to adapt our range of pool covers to our customers' specifications. Our designers are equipped to carefully study all of your projects.
Manufacturing
Our manufacturing workshops are equipped with modern and high-performance equipment (HF welding, automatic canvas panel manufacturing machines, aluminum side manufacturing machines and assembly and packaging tables) which allows us to process orders both quickly and flexibly.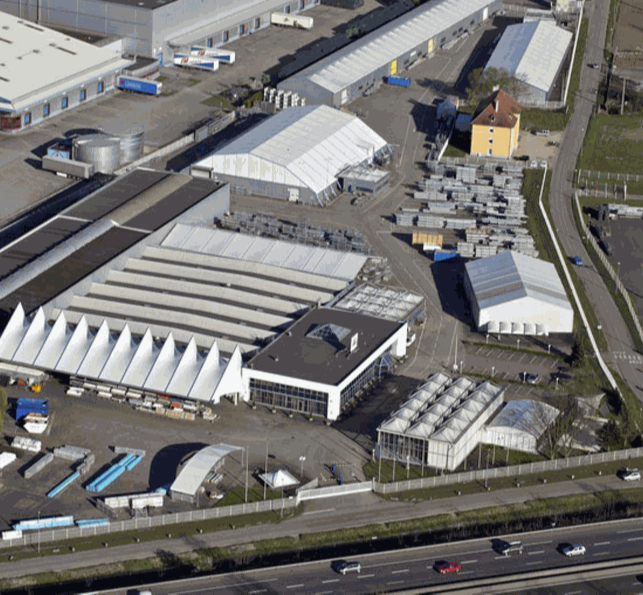 One goal: to satisfy you! Choosing Walter Pool means turning to the support of a strong team that provides access to experienced know-how.
A quality and safety approach: With top quality products, Walter Pool is a pioneer in the field of safety since almost all of our covers comply with standard NF P 90-308.
A wide range of products: In order to constantly better meet the needs of our customers, we are always developing our products to be truly innovative and adapted to each individual's needs.
A warranty promise: Our products have a 2-5 year warranty which we can offer thanks to our quality manufacturing process, the only one in Europe!
A local service: Our network guarantees that you will always find a contact person nearby to serve you to the best of their ability!
Choosing Walter Pool also means being part of an environmental approach and sustainable development logic. In fact, the two main components of our swimming pool covers, aluminum and the PVC membrane, are fully recyclable and thus meet sustainable development requirements.

Safety
We are pioneers in this field and almost all of our products comply with the French standard NF P 90-308.

Innovation
We are constantly looking for ways to improve new products in order to better meet our customers' needs.

Quality
We ensure quality products and a quality approach thanks to mastering the trade for over 28 years!

Service
Walter Pool is a team of enthusiasts who take care of their customers and offer them the greatest attention.
Member of a family of Experts
TSPH (The Swimming Pool Hub) is a collaboration of several companies in the swimming pool market. Working with more than 120 employees around the world, the group draws its richness from the synergy between its various members. Originally a Belgian industrial family group, TSPH is pushing development to become the leader of the swimming pool market in Europe.
The Walter Pool team
Professionals at your service
For over 28 years, Walter Pool has developed by constantly relying on the values that have built its reputation and enabled it to develop strong and lasting relationships with customers.
A team of experienced professionals dedicated to the swimming pool market is at the service of our customers throughout the year with a single aim: making you happy. Thanks to a modern and efficient industrial tool as well as a computerised follow-up, we ensure complete traceability of orders, a high and constant quality for our products and optimum speed, even in high season.
The team that will meet your needs

Guillaume de Troostembergh, Managing director
The flagship of the company and everyone's point of reference.


Christian Metz, Export sales director
Christian builds customer loyalty in his sector and seeks to reach new markets by meeting the requirements of all.


Vincent Sigwalt, France sales director
Thanks to his interpersonal skills, Vincent helps to create a solid bond between his customers and the company. He develops the business strategy in France.


Arnaud Degueldre, Export sales director
His years of experience combined with his business skills guarantee the overall success of the business unit.

Kevin Delaby, Export sales representative
Thanks to his business skills, Kevin can conquer many markets and increase company sales.


Jean-Denis Vernhes, South of France sales representative
Jean-Denis represents Walter Pool in his sector. He is always very friendly and forms a link between the company, current customers and prospective customers.


Olivier André, West of France sales representative
Olivier represents Walter Pool in his sector. Always donning a smile, he is the link between the company, current customers and prospective customers.

Sales administration team


Marc Fischer, Sale administration manager
Marc never gets tired of automatic shutters, as he manages all of the company's purchases, orders and quotes.


Mélanie Klein, Sales assistant
For the East and South of France sector, it is with Mélanie that quotes are made and orders placed and put into production. She also monitors their progress.

Catherine Urtado, Sales assistant
For the West and South of France sector, it is with Catherine that quotes are made and orders placed and put into production. She also monitors their progress.


Betty Frey, Shipping/Logistics
Betty makes sure that the pool covers are delivered on time. She also takes care of all the logistics for the whole company.


Emmanuelle Mall, Sales assistant
For the Germany and Austria sector, it is with Emmanuelle that quotes are made and orders placed and put into production. She also monitors their progress.


Emilie Ducasse, Administrative and accounting assistant
Head of accounting at Walter, Emilie is also behind the company's purchasing circuit.


Corentin Prigent, Graphic designer
Overflowing with creativity, Corentin masterfully creates all of the company's promotional materials!


Elise Bigot, Marketing assistant
Elise's mission is to promote Walter Pool through all means and channels of communication possible!


Jean-Pierre Demange, Design office technician
There is nothing he does not know about rolling decking and he is an expert in the technique. Jean-Pierre is always willing to help his colleagues!

Lionel Bosch, Design office technician
Plans have no limits for Lionel, and his thoroughness neither. His technical knowledge about covers is limitless too.


Dominique Gesell, After-sales service
Do you have a question or a problem? Dominique is your point of contact and will always listen to your needs.

Emmanuel Poirot, After-sales service and Training
Neither technique nor construction sites scare him. Emmanuel manages training on our products with swimming pool specialists and is a real all-rounder at Walter!


Christophe Wendling, After Sales Coordinator

As a maintenance specialist, Christophe makes sure that after-sales service requests are handled quickly and efficiently.


Vincent Deschamps, Production manager
Vincent manages the planning, production and manufacturing team.


Benjamin Lecomte, Technicien méthode
La mission de Benjamin : industrialiser et optimiser au mieux la production ainsi que développer de nouveaux projets.